Kerbl. Competence for your animal.
Company History.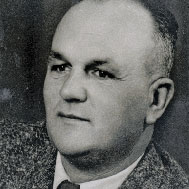 Isidor Kerbl

Everything started in a small farm in Felizenzell in 1962. Albert Kerbl´s father, Isidor Kerbl, was an expert in helping cows during risk births. His tool: an HK-calving aid. This tool was to be the cornerstone of an unprecedented business success.
Albert Kerbl

In 1967 Albert Kerbl recognised the enormous market potential of this calving aid and secured his rights for sales.

1984 the Albert Kerbl GmbH was founded with five staff members. Thanks to a clear vision, market knowledge and with incomparable quickness products have been developed and markets captured.

Within only 25 years of doing business Albert Kerbl GmbH has succeeded in establishing itself in its branch as the most important partner of agriculture. To consolidate the achieved and to win new markets were and will be the guide lines of Albert Kerbl GmbH. This vision also includes to aim at the next 15 years.
Florian Kerbl

Florian Kerbl, the next Kerbl generation to serve this tradition, is already taking part in the positive development of the company as responsible export manager for Northern Europe and America.
Milestones in the Kerbl Group

• Development of new sales markets
• Change from trader to manufacture

The strategic emphasis on investing more in the entity's own products and using them to expand the range played a significant role in the company's rapid growth. Alongside this, the constant expansion of sales markets through the establishment of country-specific subsidiaries also had an extremely positive effect.